Title:
When You Get Older
Artist:
oparu
Fandom: Hanna (2011)
Pairings: Hanna/Sophie
Characters: Hanna Heller, Sophie, various OCs.
Rating: Teen and up audiences
Warnings: Some violence and sexual content.
Spoilers: (if necessary) none in the art!
Summary: Two years after her brush with a mysterious girl and an even more mysterious government agency, Sophie is now in her first year of university, concentrating on her studies and trying not to think about the girl who still haunts her thoughts. But when Hanna unexpectedly drops back into her life, Sophie can no longer ignore what the other girl represents- to the world, and to herself.
Author:
evewithanapple /evewithanapple
Story When You Get Older
Artist/Vid Notes: I went for a redacted theme and warmth because there's such a lovely connection in the fic between these young women that it had to be gold. Huge congrats to my author for rocking out her longest fic ever. ;) 'tis an honour to be the compliment!






1280x720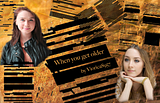 1400x900